Effi Briest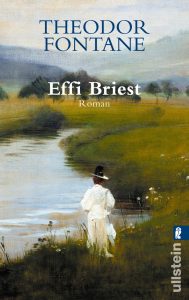 Effi Briest is a realist novel by Theodor Fontane. Seventeen-year-old Effie Briest, the only daughter of a provincial nobleman, marries a longtime admirer of her mother, Geert von Innstetten. He is a serious man who wants to make a great career, and the life of Effie will be comfortable with him. But when she finds herself in the oppressive atmosphere of a small resort town, in a home that is frightening her, next to her husband, who is constantly focised on business, she began to feel herself lonely and lost…
Effi Briest is a novel about how social conventions and the desire to look decent in the eyes of others can ruin not only marriage, but the whole life. What did Geert achieve with the duel? Only a couple of deaths and childhood without a mother. But what these irrelevant things, in his opinion, mean in comparison with his desire to be a successful minister? Of course, at the end of the novel he starts to think about it, but is not it too late? All his life, Effi's life and the childhood of their daughter are destroyed.
I can not blame Effi for what happened, but I can blame her parents. Although society and its rules are to blame too. It doesn't matter who is right and who is wrong in this story. Everyone is to blame. Her parents, she, her husband. Only the little daughter of Effi is innocent. To marry Effi against her will was the bad idea and it was unlikely to lead to a happy marriage, especially without love, especially for such a girl as Effi. She is a bright, cheerful, restless girl who put on her wedding dress being too young. Who would doubt that her heart might require real love? Especially when you live in such a harsh house.
This srory is like the story of Madame Bovary, but the husband here is not at all so good man, and the money issue does not matter. I believe that the story of the ruined life of Effi Briest is, strictly speaking, not the story of an unsuccessful marriage, but the story of the inability to forgive and set the priorities right. He, his wife and their daughter suffered from the principledness of old Geert. Is it worth one mistake a happiness of so many people? I'm not sure. In general, it is a very, very sad book about one failed fate and a hypocritical bourgeois society.