Twenty-Four Hours in the Life of a Woman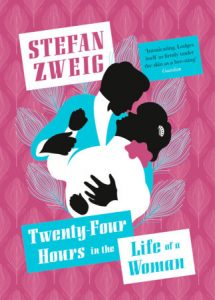 Austrian writer Stefan Zweig, like no other, was able to frankly and at the same time tactfully describe the most intimate experiences of human being. Zweig's novels have fascinating plots, full of dramatic tension. The writer shows us how defenseless the human heart is, how fatal are human destinies and what a person can do when he or she loves someone.
It is a brilliant novella. It tells about the tragedy of a woman who, at her own request, spoiled her life, about her sacrificial love. Frau Wagner is young, rich and beautiful lady. She has a wonderful husband – a successful lawyer, she also has two beautiful children, a good house, but she lacked emotions in her life, she wanted adventures. But, as it is known, any man who wants something can find it! She has everything, carefree and secure life, the help of nurse with children, a caring and loving husband, and social status. It would seem that everything in her life is good, the one thing she has to do is to enjoy the life! But as you know, when everything is good, people get bored and need to find troubles! And Henriette finds. So she finds a young lover. Is it love? Or passion? Only the trouble, it turns out, is that she can be caught… and Henriette is ready to do anything to avoid publicity. Well… on the one hand, if there is fear, then there is also something like a conscience. On the other hand, she feels guilty not because she was ashamed of her faithful husband and not because she hurt her husband or could destroy the family. No, she didn' care about it! She was concerned about what people would say. How will they look at her… Henriette did not care about everything and everyone. About her husband, about her family, about her lover, too. She was not afraid to lose anyone or to hurt him.
It is very interesting novella, having a surprise twist of events, it features reflections and, of course, a wonderful style. I would not hesitate to advise it to lovers of small prose or creativity of the author. I really like such works: small, but leaving behind a lot of reflections and emotions. Something reminded me Sagan, the same fairly banal life situations, but perfectly presented, only from a male point of view.I will definitely continue to read Zweig.