Herr Lehmann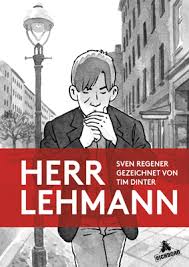 Herr Lehmann is the debut novel by the German writer Sven Regener. The novel tells about the life of Frank Lehmann in Berlin in the summer and autumn of 1989, shortly before the fall of the Berlin Wall. The novel was the first and eventually became chronologically the final part of the trilogy about the life of the bar owner Lehmann. Frank Lehmann lives in a tiny apartment in Berlin and works as a barman. Suddenly, some unexpected events begin to threaten his pampered existence: one night on his way home he meets a very unfriendly dog; his parents from the province are planning to visit him; and he falls in love with a fine cook who appoints him a date in the pool. And somewhere in the background, the Berlin Wall is coming down.
The main character, on the one hand, is an ordinary, unremarkable person, who has no particular hobby, he has no desire to do something.  But on the other hand, he is interesting. For some reason, everyone calls him Herr Lehmann. They consider him to be an eccentric person, make fun of him, but at the same time they do it in a friendly, kindly manner, without forgetting to let him know that without him they can't do anything. Actually, no, not everyone, mostly "his best friend Karl" does it but it seemed that everyone does so. In fact, he's pretty funny, he often says one thing, although he wants to say something completely different.
I can say that the book is rather interesting. Nevertheless, I was bored to read the life story of a 29-30-year old barman. I can say that Herr Lehmann is suffering from idleness rather than from some real problems. The book made me sleepy. Perhaps Herr Lehmann is really in a midlife crisis. In any case, he is at some life crossroads. On the one hand, by the age of 30 he has achieved nothing – he works as a barman, he has no girlfriend, he has no close friends, ho children, he lives in a bad poor neighborhood, and on the other hand, it seems that in principle, for him it is comfortable to live like this, except, perhaps, the absence of a girlfriend.
I was impressed because of Frank's reasoning that he likes being a barman, and this is his job, but he is constantly asked what he really does. Surrounding people do not believe that you can seriously be a barman. Do not want to be a musician or writer, or do something else so creative and great. But it's not a secret that many still remain barmen, drivers and so on, and never become anyone else. It's such a difficult question… To work for love or for money, and how can one person work for love where the other just waste time?.. But when you look at it, it becomes clear that Frank has nothing but this work and he does not strive for a high goal. Yes, so what?