The Night in Lisbon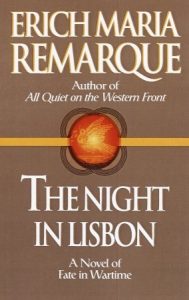 The Night in Lisbon is one of the last works of E. M. Remarque. In the novel there are the main motives of his work – love and pacifism. They are connected in the tragic fate of the protagonist – an escapee from Nazi Germany, who loses his country, his beloved woman and his hope for the future. Throughout the novel there is a thought about the illusory nature of happiness, characteristic of the writer's creative work.
The Night in Lisbon is a sincere, emotional and very deep novel, which tells the story of two emigrants who spend one night together. The novel is a intimate conversation between two completely strangers, who were united by similar problems. One tells, the other listens. On the example of Schwarz, we can see what human being can do only to be listened to. Loneliness is always looking for companions and never pays attention to who they are. The story told by Schwarz is a long and thorny path, the path of a wanderer who found happiness and at the end he lost it. It is a story about a strong sense of love. It is a complex novel, raising a huge number of issues: personal, social, global ones … In the novel it is told almost about everything: about happiness, losses and sorrows, love, loyalty, betrayal, loneliness, repentance, struggle. When you read a book, you instantly immerse yourself in the story of the storyteller, imagine every place, the situation in which everything happened, and you share with the hero bad and good moments, rejoice and sad about losses and despair. After reading this book, you will learn a lot about how people lived during the war, what they had to go through and how they could stand it. And eventually you understand that many people were alive by love, it was the thing that saved them in difficult times and forced to move forward.
It is difficult to find words to describe my thoughts and feelings after reading this book. Remarque, in my opinion, is genius. He seems to move us into his novel and everything that is happening is getting so close that you cannot turn the pages with a calm heart and not feel all the pain, fear and love that are in every line. The Night in Lisbon is a night full of loneliness, loneliness together. Two men, two emigrants will meet in Portugal, having gone a long way. One will tell the other man the story of his life, the history of war. This book along with his other bestsellers will be a book for all time! What a pity that there will not be such a time without war.