The Thief Lord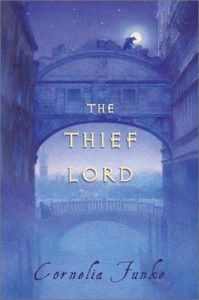 Every child dreams to grow up quickly, because the world of adults seems to them a world in which you can be independent and do whatever you want. But we, those who have already grown up, realize that adult life is not so easy and great. And in the end, adults want to become children again, in order to play with toys and to sleep a lot. In what case people want to be who they are? In my opinion, almost never. All of us in dreams want to become someone else. Do you know what's interesting? For some reason this book is positioned as the story of the boy Scipio, The Thief Lord. But in fact it's also the story of Prosper and Bo, Mosca, Riccio, Victor, Ida… This is a story about how difficult it is to be children and how difficult it is to be adults. Probably, it's always difficult to be a human, regardless of age, gender and nationality. That's why we want to become someone else, in the hope that everything can change and life will become easier. But it is empty hopes. Life will always be difficult, but there is always a place for happiness.
Prosper and Bo are two brothers who escape from their aunt, because she wants to separate them by putting Prosper in an orphanage. But it's clear that if brothers love each other, they will never want to be separated. They run away to Venice because their mother always told them fairy tales about it. And here fairy tales become a reality. Golden horses, pigeons, deep canals, magnificent gondolas… The boys, together with the three homeless children, live in a closed cinema, but they are provided by the mysterious Scipio – The Thief Lord. And everything seems to go well, until everything starts to go wrong. There is a private detective Victor who spy Prosper and Bo at the request of their aunt, then The Thief Lord receives a mysterious order that promises a huge reward… In general, in the best traditions of the genre, everything turns upside down.
Although The Thief Lord is a children's literature, but, as for me, it will be interesting and relevant for adults. It just touches on a subject of significant interest of all mankind: growing up. Incredible adventures of children, exciting events, legends, an old carousel and unexpected turns of events. Yes, this book contains everything. And, finally, I cannot write about Venice. It is a full-fledged protagonist. Reading this book is like visiting Venice.