Timm Thaler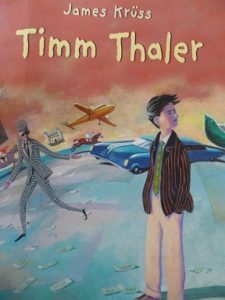 In childhood this book seemed a kind adventure fairy tale to me. But with good books it's always like this: each time you will you re-read this book, you find new meanings. But now I find the work of the German writer James Krüss deep and sad. It is a wonderful, in some sense, instructive story. The protagonist is the boy Tim Thaler, who sold his laughter. However, together with his sonorous and contagious laughter, he lost something more. He lost not only the ability to smile and joke, but also lost his inner freedom and carelessness. In return, he got the ability to win in any, even in the most impossible, ridiculous bet. However, as it turned out, money, wealth, social status can't replace such habitual, ordinary, self-evident laughter. Can you imagine a happy life without laughing and smiling? Me not. And James Krüss in his little story showed how unhappy, deprived of joy and pleasure, can be a life without laughter, especially for a little boy.
I liked most of all the first part of the book: the story of a little boy, so similar to the story of Cinderella, only with the difference that gifts are given for a reason, for the most valuable thing you have, even if you don't know about it. And gifts can sometimes be useless. So, the first part, where we get acquainted with Tim, and then we also try to imagine our life without laughter, is the best one in this book. But also I can say that this book is a bit creepy, because I love to smile and laugh and I can not imagine my life without this gift… But the boy of this story voluntarily refused from his rippling laughter and the ability to be happy. Well, later everything is right back to normal and for the sake of the return of the ability to laugh our young hero goes to any tricks and refuses a lot of things…
It is very difficult to speak about the book. You can say out too much and it will not be so interesting to read it later. After all, the main thing in the book is the plot. It develops gradually. And starting with a little boy, we'll go there, where you even can't imagine. Let's go around the world.
This story can teach both old and young people a lot of important things, even if not teach, but remind of the most precious things, of what you need to cherish and appreciate: friendship, freedom, mutual assistance …
Rather good children's fairy tale, you should remember it when you will recommend books to your children for reading.